Loved ones with Alzheimer's disease and other related dementias can receive individualized care in three specially-designed neighborhood residences. All three neighborhoods are secured, as our primary purpose is to create a safe and supportive environment for our new and current residents diagnosed with dementia, especially for those at risk for wandering. Our interdisciplinary team offers a structured daily routine, a variety of therapeutic programs and activities designed to provide enjoyment and socialization.
Each neighborhood include a recreation area, spacious kitchen and dining area and family room. Outdoor courtyards enhance therapeutic recreation and sensory stimulation and inspire memories.
Our staff are specially trained to give loving and compassionate care to those with dementia, and our residents are encouraged to be involved in all aspects of their care for as long as they are able, which we believe promotes a healthy sense of purpose.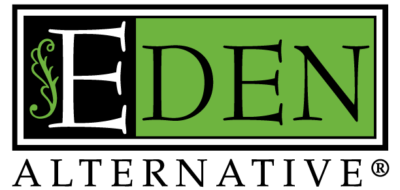 The Eden Alternative® philosophy promotes active and caring environments which encourage self-worth, camaraderie and excitement for residents and employees, and you can see it in action every day at Masonic Village.
As a certified Eden Alternative® community, Masonic Village is home to companion pets that bring variety and spontaneity into your daily life. Children and volunteers visit regularly, giving you the opportunity to build meaningful relationships. Even our landscape, activities, dining and staff training revolve around these principles.