Just like her husband's  distant relative, the abstract expressionist painter Jackson Pollock, Masonic Village at Elizabethtown resident Evelyn Pollock isn't afraid of color.
Her multicolored, highly-detailed coloring pages prove that coloring and coloring books aren't just for kids. Since moving to Masonic Village at Elizabethtown five and a half years ago, she has won multiple awards for her artwork at the Elizabethtown Fair, including first place in the "adult coloring" category for a drawing that she did of an eagle in 2021.
"I don't just fill in the lines and let it be," she said. "I shade and try to bring objects to life."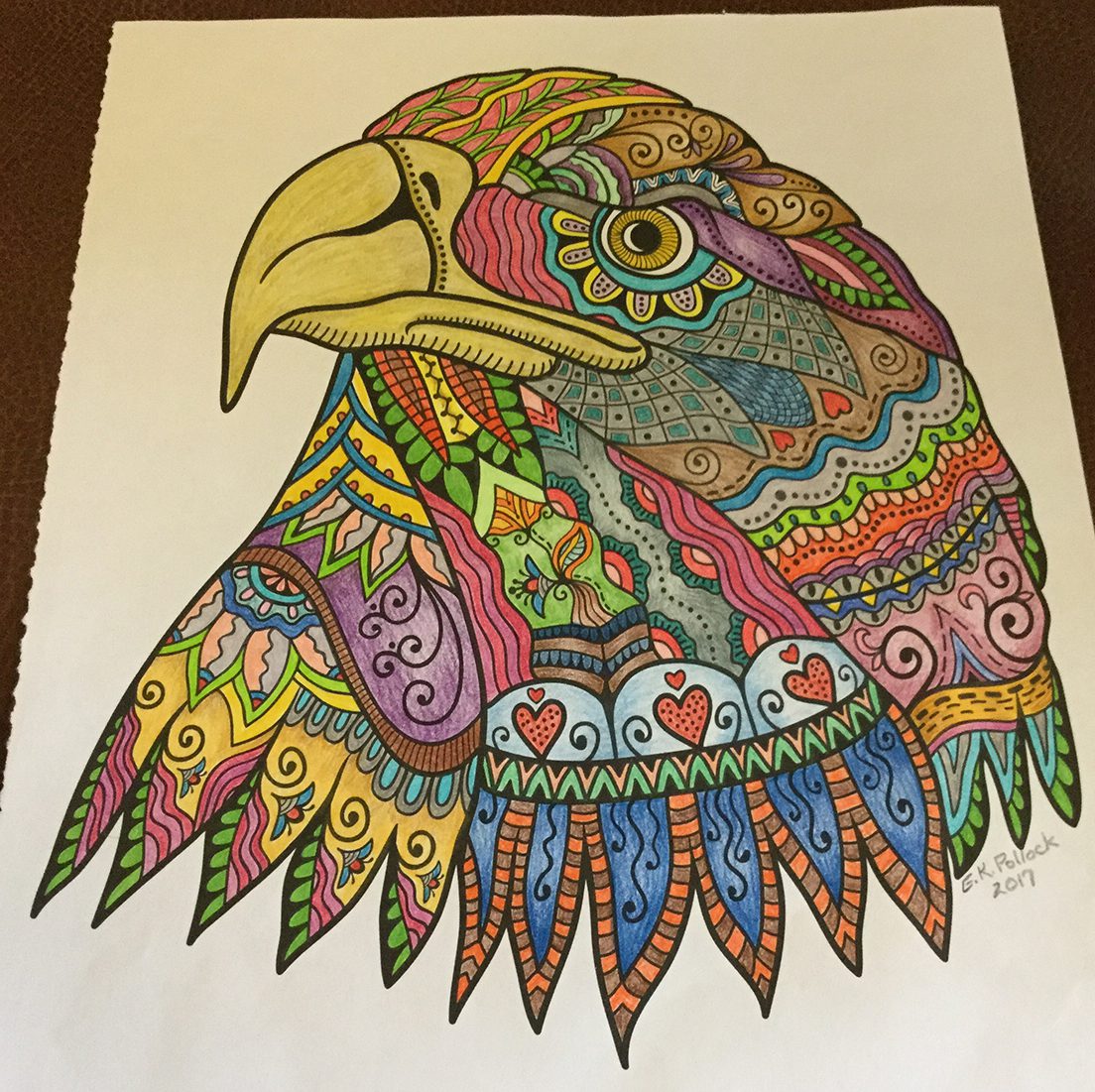 In addition to her connection with Jackson Pollock, she met Jamie and Andrew Wyeth while taking care of Andrew's sister and Jamie's aunt, Carolyn, as a home health nurse.
"They were just regular people," she said, about the Pennsylvania artistic dynasty.
She also worked as a surgical technologist, as an assistant to a garage door installer, in a poultry processing plant and had a paper route.
Evelyn says she has "always been interested in handicraft." Her grandmother taught her how to knit, and Evelyn learned how to crochet and macramé on her own. She went on to teach knitting, crocheting and needlepoint at a local yarn and craft store. She also made woodcraft items, speaking to a handiness which extended outside of work.
"If there was something in the house I needed, I built it," she said.
Evelyn's artistic talents also extend into the music sphere. She sang in the church choir and performs on and off-campus with Masonic Village at Elizabethtown's Music Merrymakers.
With three children, five grandchildren and one great-grandchild to her name, Evelyn and her family prove the arts have put down roots in their lineage. Her oldest son played the tuba in the Central Pennsylvania Symphony, having learned the sousaphone in high school. Her youngest son is an artist, and her one grandson has served as musical director for Servant Stage and Susquehanna Stage Company productions. Her daughter played flute and bells in her high school band, including a performance in the Mummers Parade on New Year's Day.
"I've had an exciting life," she said.